Where is NESFAS based?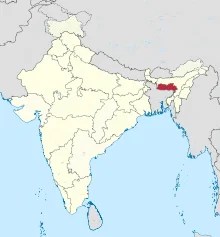 NESFAS is based in Shillong, state of Meghalaya, in North East India.  Currently NESFAS is working in the districts of Garo Hills, Ri-Bhoi, West Khasi Hills, East Khasi Hills and Jaintia Hills.  In Assam, NESFAS is working the districts of Dima Hasao & Karbianlong.  In Manipur, NESFAS is working in the districts of Senapati & Ukhrul.  In Nagaland, NESFAS is working in the district of Kiphire.  The immediate aim is to link all north-eastern states of India. Click here to the see "Where we are"
How is NESFAS financed?
The Government of Meghalaya currently supports NESFAS.
Who do we work with?
NESFAS operates together with the two Shillong-based IFAD projects – The North East Region Community Resource Management Project (NERCORMP) and the Meghalaya Rural Development Society (MRDS).  NESFAS is currently engaged with communities in three states; Manipur, Assam and Meghalaya.  The collaborative efforts of NESFAS and the IFAD projects are currently working with the identification of strong communities who still value and share the vast ecological knowledge related to agrobiodiversity practices.  In Nagaland, NESFAS is currently working the North East Network (NEN) to bring together its already existing communities within the ABD network.  Being the two nodal agencies for Nagaland and Meghalaya, NEN and NESFAS are taking up strong initiatives to share knowledge between each other and across the NESFAS network.
With respect to the ABD networks, NESFAS does not only network in the North East, but also with existing national organisations such Deccan Development Society (DDS), MS Swaminathan Research Foundation (MSSRF), Keystone Foundation, Consume Green (C-Green) and other international organisations along with communities/individuals that are under the umbrella of the Slow Food network and the Indigenous partnership.
Why the name Slow Food?
An ironic way of saying no to fast food, Slow Food means living an unhurried life, beginning at the table.
What is the Ark of Taste?
A project to rediscover, catalog, describe and publicize forgotten foods, the Ark of Taste was created by the Slow Food association in 1996.  Today the international list includes more than 1,100 products from more than 50 countries that are endangered by industrial agriculture, environmental degradation and standardization.
What are Presidia?
Presidia is a Latin name that literally translates into English as 'Stronghold' and
symbolizes the defending agrobiodiversity products and their producers. It is a project run by the Slow Food Foundation for Biodiversity to directly have a relationship with food producers and artisans.  The project sustains quality production at risk of extinction, protect unique regions and ecosystems, and recover traditional processing methods, safeguard native breeds and local plant varieties. Today there are around 400 Presidia listed in the Slow Food network that work towards improving the livelihood of small-scale artisanal food producers.