Something very interesting is happening in North East India. The local communities have been holding a series of Food Festivals where locally available (wild edibles) and locally grown food (cultivated) are displayed and cooked.
Known as Mei Ram ew, and modeled on the Terra Madre and the good, clean, fair concept of Slow Food, these festivals are bringing communities together. They exchange their know-how, they exchange seeds of disappearing varieties, and recipes among other things.
Seen in a larger sense, the move is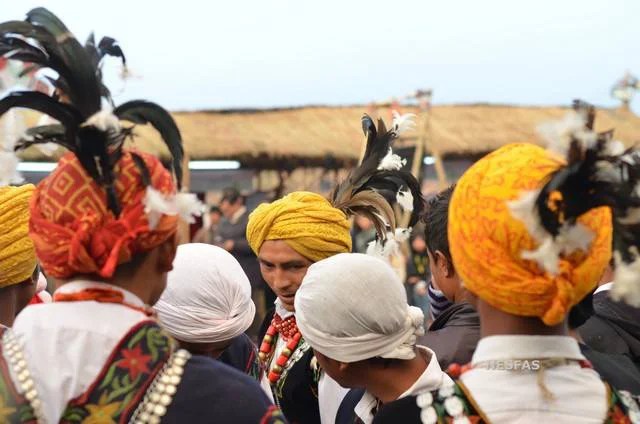 to celebrate and protect Biodiversity, take pride in one's own culture, and more simply enjoy the pleasure of eating fresh and good food. Interestingly, these gatherings and the behind-the-scenes work are bringing out farmers who have been growing a variety of local crops for generations. The knowledge handed-down is preserved by the simple act of practice.
Ridyan of Khweng village is one such farmer. When we asked her how many varieties she grows, she said maybe 11-12 varieties. But a little digging revealed that she actually grew and protected 70-80 varieties of food-plants and trees in her little jhum patch! She actually grew 20 varieties of yam alone!
Ridyan's 11-member family entirely subsists on what they grow and are known in their village and surrounding ones as the healthiest family in the region!
Khweng itself is a small village in the Ri-Bhoi district of Meghalaya and once upon a time grew 17 varieties of rice. Today unfortunately 7 varieties have gone from their village. During a Biodiversity-mapping exercise, led by Bhuwon Sthapit of Bioversity International, Delhi, the women put up an impromptu display of all the food that they eat – gathered from the forests and grown by them. We counted an incredible 77 varieties of vegetables, cereals, lentils, roots, fish, fruits, etc.
What these Food Festivals and mapping exercises are doing is helping communities understand the food-resources they actually have, while revealing to them what is disappearing and is in urgent need of protection. The farmers who are growing some of these disappearing varieties simply give away or exchange a part of their stash of seeds to those who would like to grow them. In the next season the farmers who have taken this seeds plant them and keep aside and build their own stash of seeds… and within a couple of seasons, what was on the verge of disappearing, makes a come back.
Written by Radha Kunke from Ground Zero+

Comments
comments