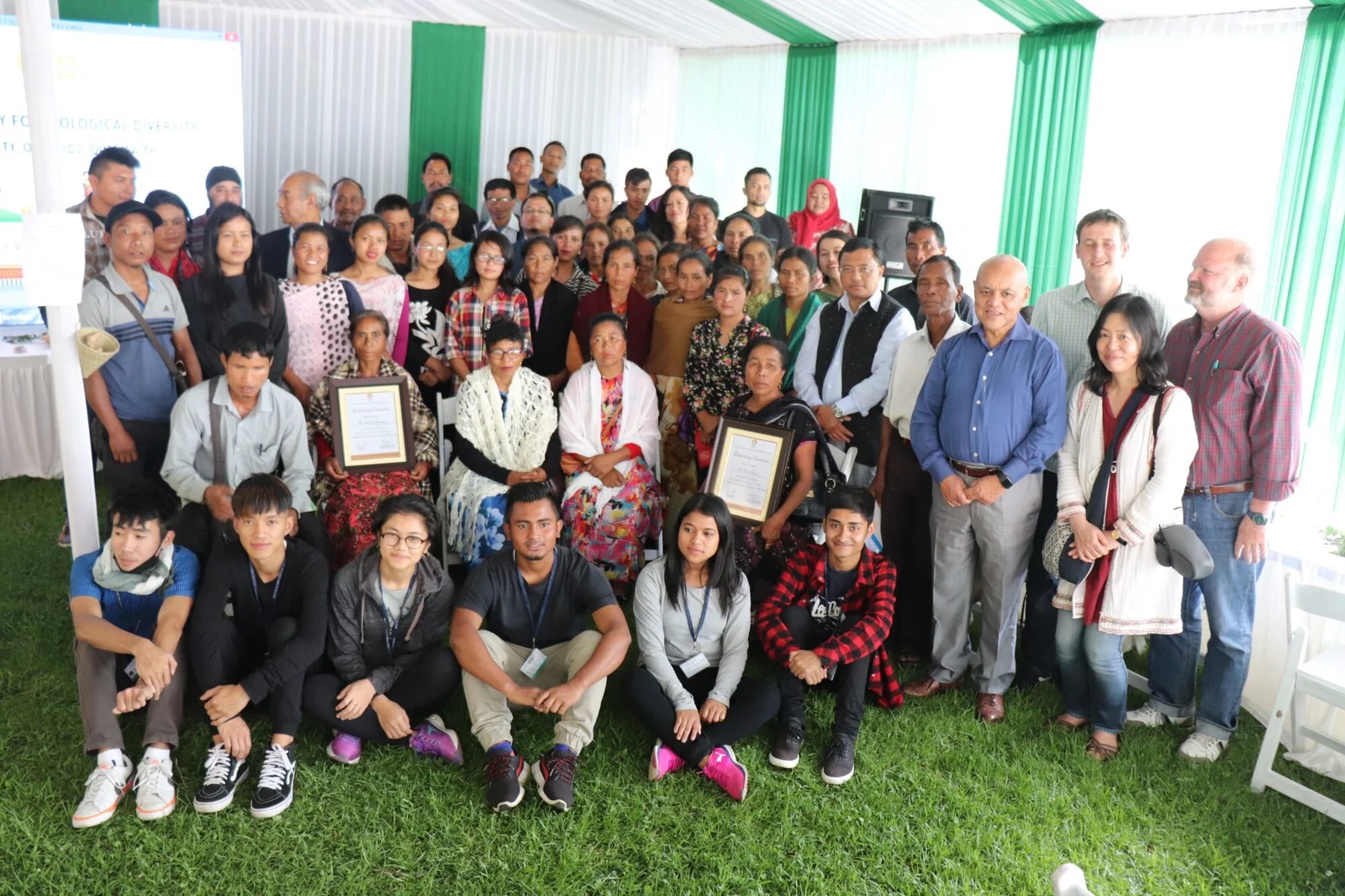 NESFAS celebrated the International Day for Biological Diversity 2019 on 22 May 2019 with Khasi, Jaintia, Bhoi and Garo Custodian Farmers, Mei-Ramew Café entrepreneurs, Women Group members and Youths from six villages.   Students of the Department of Environment and Traditional Ecosystems, Martin Luther Christian University, as part of the celebration, participated in an early morning agrobiodiversity walk from Madan Rngi to Laitsohpliah village, along with the local youths of the area. They identified 21 wild edibles during the walk under the leadership of Nestar Kharmawphlang, a custodian farmer from the village.
Acknowledging the problems community members have with pests in their fields, NESFAS organised within its premise a practical sharing of ideas on how to undertake pest management with the members of the Agroecology Learning Circle (ALC) from Mawhiang, Liarsluid, Umsawwar, Pyrda and Darichegre (Garo Hills). The emphasis was on the sharing of local knowledge amongst farmers themselves together with the acknowledgement that modern science can also make useful contribution to the current local knowledge. Some of the pests that were identified during the discussions were cabbage loopers, may beetles, corm borars, cut worms, red ants, etc. Participants agreed to a suggestion to test the various pest management methods discussed in one season and to try some hands-on learning methods such as having in each of their villages an "insect zoo" as developed in some countries.
NESFAS presented to the participants a brief summary of its on-going study for mapping of micro-nutrient rich species in 32 villages.  Melari Nongrum, Executive Director of NESFAS, stated that despite the presence of many micro-nutrient rich species in these villages, community members do not have adequate intake of micro-nutrients leading to serious health problems like anaemia and micro nutrient deficiency especially amongst children and young mothers.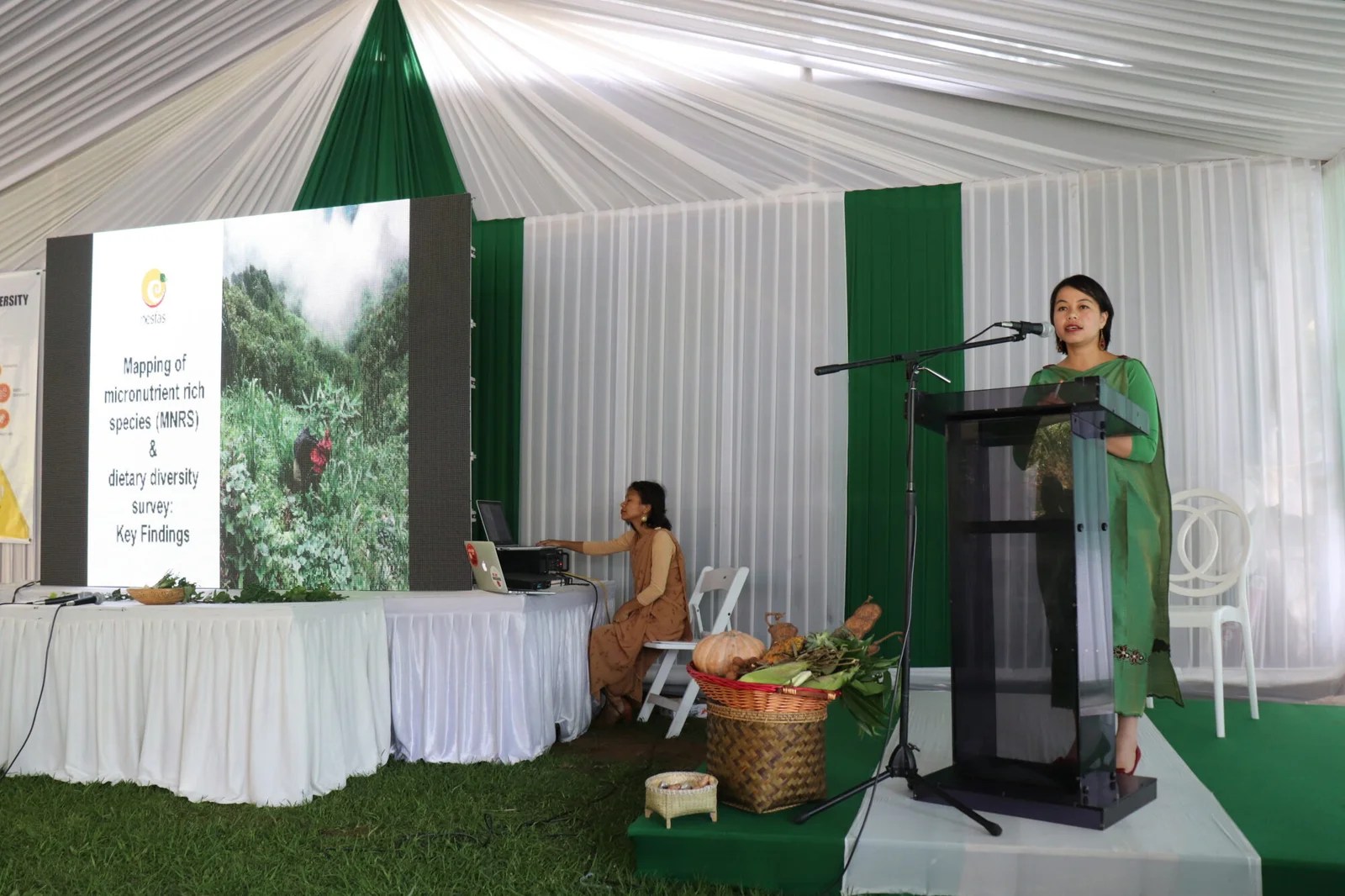 Probina Kharkrang, a custodian farmer from Dombah (West Khasi Hills), said, "I have learnt a lot from the workshop today. I have also gathered a lot of information from the other farmers on pest management." She added, "I will implement all that I have learnt in the workshop today in my field and share what I learnt with the other farmers in my village."
Three custodian farmers — Ridian Syiem from Khweng village (Ri Bhoi), Nestar Kharmawphlang from Laitsohpliah (East Khasi Hills) and Probina Kharkrang from Dombah (West Khasi Hills) – were facilitated by NESFAS for their contribution and hard work in the field of agroecology and promotion of indigenous food system.
All participants and staff had lunch which was prepared by the community members of Khweng. They showcased a variety of indigenous food items like local red rice, smoked beef with pumpkin, stir fried fiddle fern with tamarind, salad, turmeric and fermented fish chutney, mint chutney, egg curry with black sesame seed and a mixed assorted fruit salad. The celebration concluded with a reminder that we must all set examples that global issues can be solved with local measures with community being an important pillar of our development and well-being.
Comments
comments