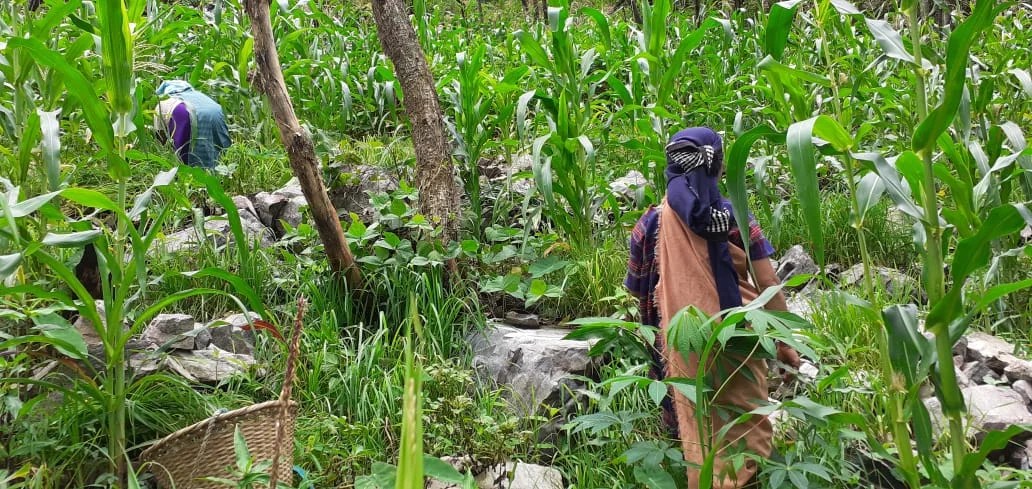 People are left wondering as to what would happen if there was food scarcity during the recent Covid-19 Lockdown that struck the state and worldwide. The Government in its own way is trying its level best to provide ration at a cheap rate and several organizations along with few volunteers are hosting donation drives to help feed the vulnerable members of the weaker sections. But overall, a question still haunts everyone as to what would happen if there was shortage of food and as to how long can the government support these people?
Interestingly, NESFAS during one of its visit and surveys at some of the communities it is collaborating with found that cultivation of millet has been brought back to life yet once again. Earlier in the past, millet had been considered to be one of the major food grains of the people in our state, especially those who are living at the rural areas.
However, the introduction of the Public Distribution System had affected the demand for millet, which put a stop to the production of the grain at several communities. But, at the same time, a few households still went on with the production only for preserving the seed.
A few days ago, the NESFAS team received some feedback from the newly appointed community facilitators that due to the lockdown, there has been a loss of several livelihood opportunities, including food security. The food security crisis has made many farmers to ponder on how to go back to what their forefathers did in the past and to follow their footsteps. Interestingly, it was found out that the production of millet had started increasing again in some of the NESFAS target villages. (The table given below shows how millet production has increased again)
A farmer, Wanlam Pyngrope) said "For so many years now, we have been ignoring our own indigenous food systems. Because of our greediness for money, we filled our fields with broom grass but now we realize that we cannot eat broom grass. So this is a big lesson for us."
Khraw Wahlang, advisor innovation and community empowerment of NESFAS, said, "I believe this statement should become a source of inspiration to all of us particularly our policymakers to start promoting our own local foods."
| | | |
| --- | --- | --- |
| List of the villages | Household cultivate millets before | House hold cultivate millets Now (2020) |
| Mawpynthymmai, EKH, Meghalaya. | 1 Household | 13 household |
| Umsawwar, EKH, Meghalaya. | 40 House hold | 55 Household. |
| Dewlieh, EKH, Meghalaya. | 1 household | 7 household |
| Nongtraw, EKH, Meghalaya. | 8 Household | 13 household |
Comments
comments