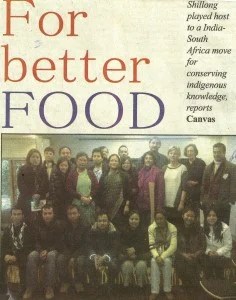 An interactive session "Conserving Indigenous Knowledge on Traditional Medicine: Preventive and Therapeutic Nutrition Practiced in India and South Africa" was organized by the Asian Confluence at its conference center on the sidelines of a survey visit to Meghalaya by scientists from University of Kwazalu-Natal, Department of Public Health Medicine, Durban, South Africa and Tata Institute of Social Sciences (TISS), Mumbai recently. The Asian Confluence is a visionary entity in Shillong, a preternaturally entrepreneurial enterprise of the Divya Jeevan Foundation, has taken the intrepid step of establishing itself as the epicenter of cultural convergences of the northeastern region with its South East Asian neighbours.
The interaction between the visiting group and local stakeholders consisting of practitioners of indigenous medicine, representatives from policy making bodies of health service units and organizations working on public health discussed threadbare about efforts needed to save the traditional remedies. The meet was well attended with representatives from North East Slow Food movement, Bio Diversity Research Center (BRDC), Meghalaya Basin Development Authority, Institute or Public Health, traditional healers, activists and members of Non-Governmental Organizations.
Addressing the gathering, Kasturi Ray from the TISS informed the audience that India and South Africa has recently signed a joint treaty to have a collaborative work in the area of science wild development As part of this, Indian / South African inter-governmental Science & Technology cooperation program has been undertaken and the TISS has initiated a survey work on conserving indigenous knowledge on traditional medicine.
Myra Taylor said that South Africa and India are two developing countries where health care system faces an overall shortage and mal-distributoin of medical doctors and specialists in remote rural regions. "On the other hand both the country has a rich heritage of indigenous knowledge of local biodiversity for preventive and therapeutic nutrition. A small group of local/indigenous peoples are still the custodians of diversity so far. There are somewhere between 30 and 100 million species of flora on earth. Through an understanding of the natural processes traditionally human being has been able to use and retired IAS officer and social activist from Shillong Tokiwaio Blah said that the laws being formulated under the aegis of the district council is a very positive step in the direction of giving formal recognition and ensuring intellectual property rights remain with the community. The director of Asian Confluence, Sabyasachi Dutta said, "The Asian Confluence has the charter to promote cross disciplinary exchange of knowledge and such events go a long way to forming an environment and promote win-win synergies that can balance economic development with socio cultural issues." He added that India's Northeast and the Khasi Hills have a rich tradition of Indigenous medicine. "There are many plants used in day to day life as nutrition source, as home remedies for small ailments or chronic diseases. These do not need any special training but are good enough for preventive and therapeutic use. There is a need to record these home remedies for future scientific verification."
The article appeared on the 2nd of February 2014 in The Shillong Times Sunday Canvas.
Comments
comments