Three communities from Meghalaya participated in the monthly Mei Ramew Farmers' Market which was organised by the North East Slow Food and Agrobiodiversity Society (NESFAS) on Saturday at the office's premises in Laitumkhrah.
The market showcased and sold various produce from shifting cultivation, wild edible plants and kitchen gardens, brought by three partner communities, namely, Liarsluid (Ri-Bhoi district), Mawlum Mawjahksew (West Khasi Hills district) and Umsawwar (East Khasi Hills district), Meghalaya.
Lambinus Raliang, a Master's of the Social Work Department from Assam Don Bosco University who visited the event, said, "It is a good initiative as we get an opportunity to get a chance to get hold of local products which are not available in the mainstream market. It also helps boost the economy and the livelihood of the farmers." He added, "It helps people gather knowledge about wild edibles and indigenous crops and this in return helps us conserve the biodiversity."
Leshiphro Kashena, Innovation Associate of the National Innovation Foundation India, who also visited the market said, "This is my first time attending a Farmers' Market where the farmers are actually getting an opportunity to sell their products. Since most of the plants are dying these days, it is a nice feeling to see that there are farmers who are preserving these and are bringing them back. It is also a good way to connect with the farmers and the rural communities."
Therisa Nongrum, a farmer from Umsawwar community, said, "It's a great opportunity to be able to sell these fruits and vegetables brought from our communities, especially most of the wild edibles that are just left in the forests."
The ESAL Meghalaya group also showcased various Garo and modern progressive cuisines, like cabbage roll dumplings, gominda wak (pumpkin pork stew-soup) and jakep and special brewed tea, at their first pop-up show of the year.
On the other hand, Rostina Mujai, Liarsluid (Ri-Bhoi district), took pride in explaining the steps of cooking a special vegetable brought from her community called 'Lashing'.
Members of the NESFAS kitchen also showcased a few local cuisines like smoked beef with pumpkin, cucumber with chameleon plant chutney, wild edible dried fish chutney, millet cake and many more.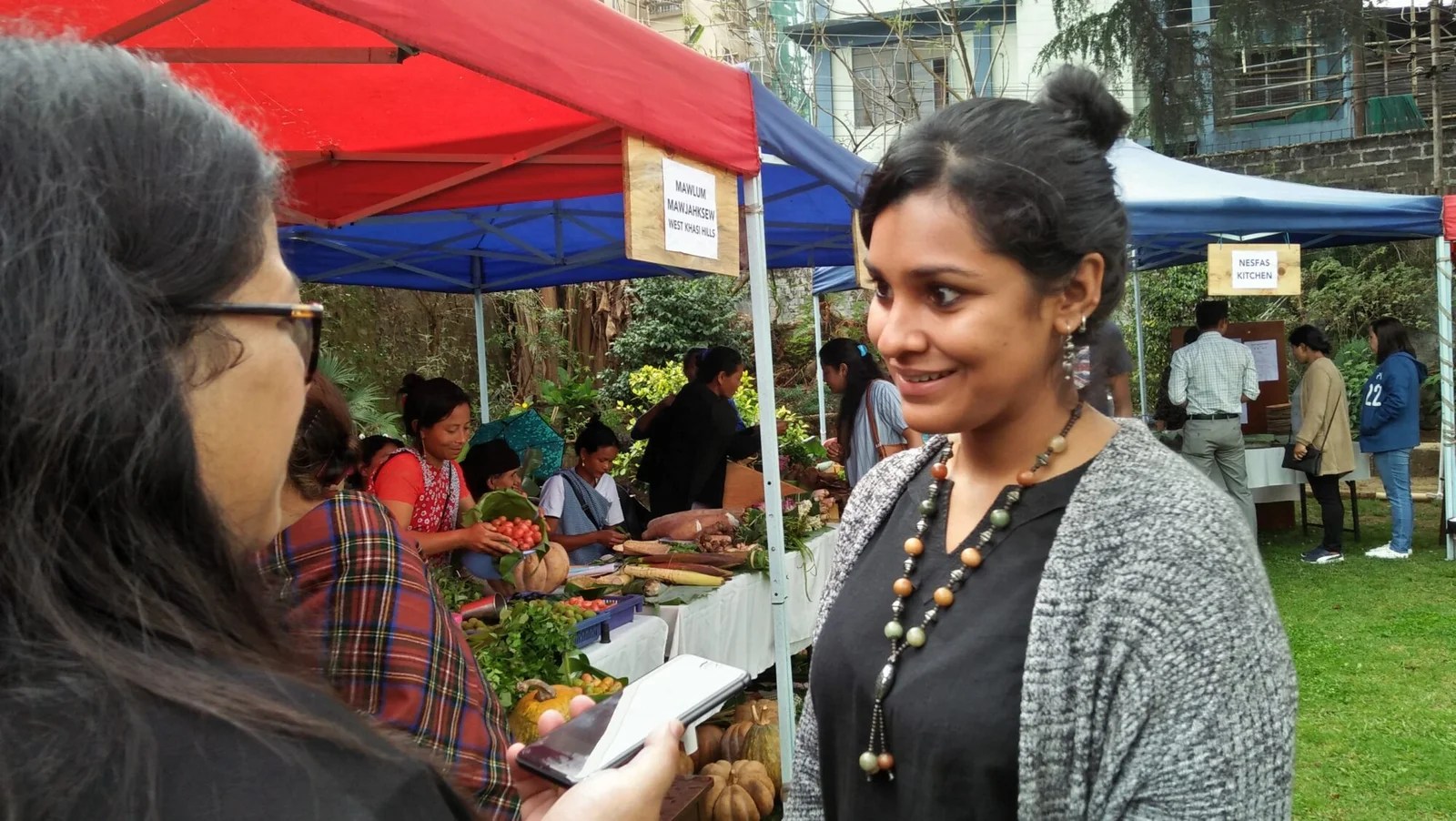 Shraddha Bandya, a member of the People's Science Institute, an NGO that promotes natural resource management, conservation biology, and sustainable development from Dehradun, who is on a visit to Shillong, appreciated NESFAS' initiative. She said, "This market is a wonderful and excellent venture and I think it should be supported further as rural communities should have a space for organic food and local produce. This whole idea of the kitchen and getting a taste of the samples is a great way to engage with people."
The market is an initiative that was started in April 2017 by NESFAS and many more markets have been organized in the past in collaboration with other like-minded partner organizations and institutions. It is one of the important activities under the project "No One Shall Be Left Behind Initiative" that aims to promote and generate awareness on Indigenous Food Systems and its contribution towards food sovereignty and nutrition. It is also a platform for consumers and access organically produced food items and varieties of wild edibles and to directly interact with food producers.
Comments
comments