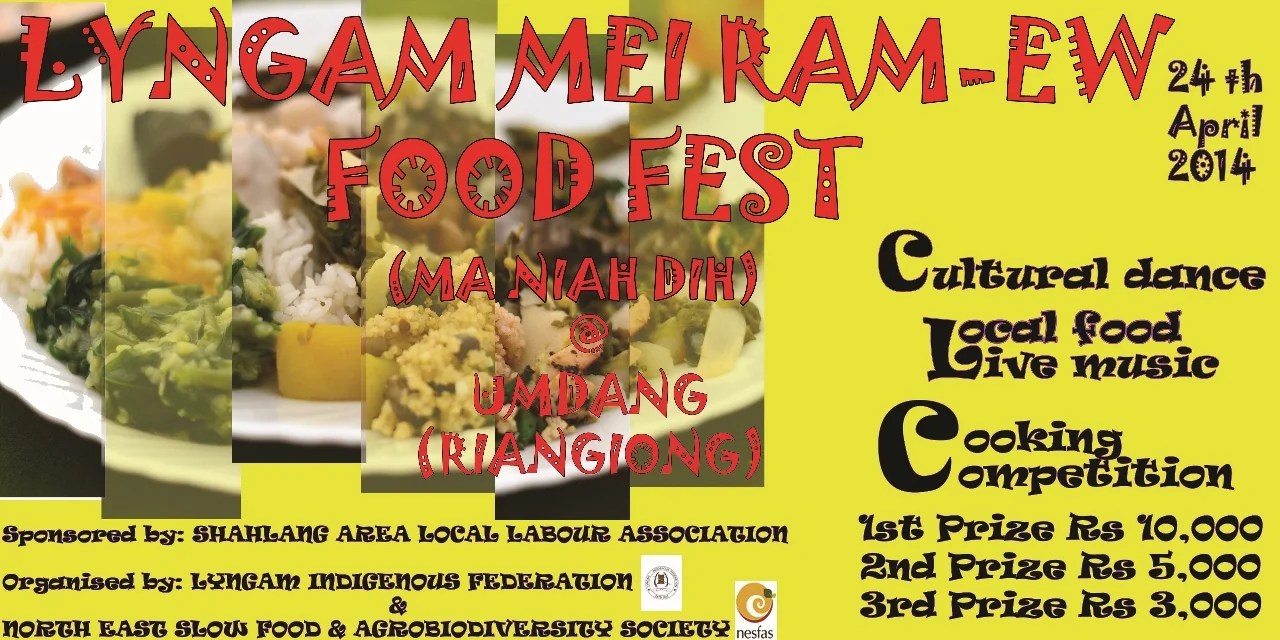 The Lyngam Indigenous Federation (LIF) in collaboration with the North East Slow Food and Agrobiodiversity Society (NESFAS) and the communities of
Khatarshnong are organising the first ever Lyngam Mei-Ramew Food Festival on the 24thApril2014, in Umdang (Riangiong), West Khasi Hills District, from 8.00 a.m. to 6.00 a.m.
The food festival, which is being supported by the Shahlang Area Local Labour Association (SALA), aims to connect people to the pleasure of Good, Clean and Fair local food, thereby promoting its production and sale. This, in the long run, it is hoped, will lead to the preservation of local Agricultural biodiversity, a major endeavour of NESFAS.
Such a food festival not only instils pride among the producers and consumers but also serves as opportunities to showcase the communities' richness in biodiversity, cuisine and even culture through dance and music.
A major attraction of the event is the cooking competition which seeks to encourage communities to come forward and exhibit innovative cooking techniques and recipes based on traditional knowledge. Participators are urged to use innovative ways of cooking with millet as well as other local produce and develop new recipes. Cash prize of Rs.
10000, Rs. 5000 and Rs. 3000 will be awarded as 1st, 2nd and 3rd prize respectively.
The dishes will be judged on taste, innovation, presentation and use of indigenous products. For a more wholesome experience one can expect not just delicious food but traditional dance and live performances at the festival.
Your participation will ensure the event's success. Come and support the people of Lyngam and the participants and do your bit to promote KFC; our very own Khasi Fine Cuisine.
For more information on the cooking competition contact us at 9615172968 or 8014337676.
Comments
comments