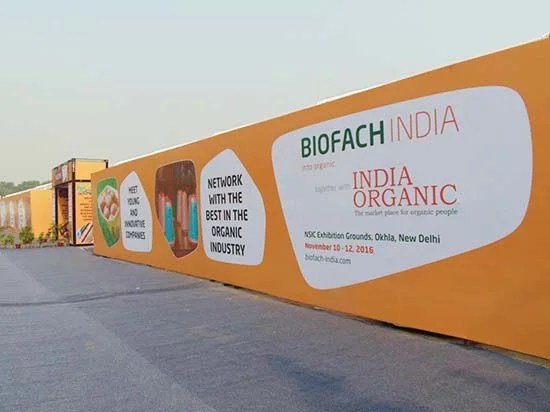 From the 10th-12th November 2016, the eighth edition of BIOFACH India together with INDIA ORGANIC organised The Organic Fair showcasing the country's organic diversity at the NSIC Exhibition Grounds, Okhla, New Delhi. Nürnberg Messe India (NMIND), International Competence Centre for Organic Agriculture (ICCOA) (co-organizer) and IFOAM Organics International (International Patron) had also organised the organic fair.
The international trade show was to expose the global organic farming movement to the growing emerging organic industry in India. It also displayed the tremendous development of organic farming certified products from around India and served as an exclusive platform of quality to the global market.
NESFAS was invited to the trade fair to be part of the North East Connect (NE Connect) program, a sideline program organised by GIZ in collaboration with ICCOA for the various North East Region Governments. In which farmers and producers had engaged interactions with potential buyers from around the world.
The NE Connect program is part of a study that explores the best prospects of their product portfolio from the North East Region (NER); to map the value chains and market potential of their produces. GIZ in its concept note expressed that agriculture in NER has economic, social as well as environmental benefits because of the 'largely organic by default' farming in the region. However, the study explored moving forward to market the organic produce is challenging, especially to address sales at a premium price. There are still varied possibilities of ideas that need to be explored for handling these setbacks.
As a platform for exploring and identifying better ideas, the 8th BIOFACH INDIA, INDIA Organic 2016 provided an opportunity for NESFAS to learn about the different possibilities of markets and entrepreneurship in the area of organic farming. Representatives from NESFAS at the international trade fair accumulated an understanding to further connect the close link with farmers in the region to possible markets.
Comments
comments