'NESFAS and its partner communities support the fight against air pollution of the state government's One Citizen, One Tree campaign by activating its villages'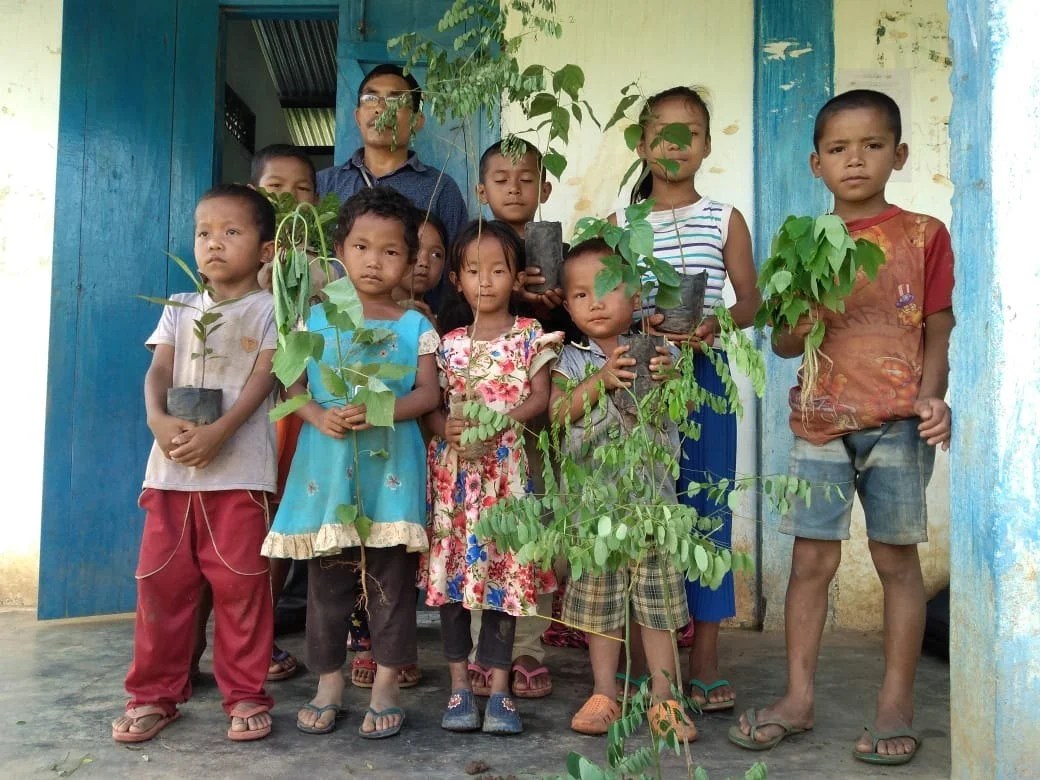 Our partner communities on Wednesday united together to combat air pollution and celebrate World Environment Day across Meghalaya.
Mawmihthied LP School (East Khasi Hills) organised an agrobiodiversity (ABD) walk, in spite of the rainy weather, along with two knowledge holders of the village for the students and teachers. They identified 36 varieties of wild flowers, wild edibles and medicinal plants. Robin Nongrum, head teacher of Mawmihthied LP School said, "These ABD walk helps the children gather knowledge about their own environment as it is something that they are forgetting about these days at an alarming rate."
On the other hand, Dombah RCUP School (West Khasi Hills) held a tree plantation drive, an essay competition on environment day, a drawing competition and a grow-my-crop competition. The grow-my-crop competition is an initiative of NESFAS where school children are assigned to grow crops, monitor and care for the plants till the time of harvest.
At Khliehumstem (Ri Bhoi), community members and a team from NESFAS took part in a cleaning drive organised by the Raid Iapngar Sports and Cultural Association (RISCA). The programme was supported by Nehru Yuva Kendra Sangathan and Umsning block. Students of Khliehumstem Presbyterian LP/ UP School also took part in the ABD walk followed by a cooking demonstration of indigenous food items. F Teron, president of RISCA, said, "The benefits of  planting a tree will not be  realised immediately, but it is like investing  money in a bank as it preserves our  resources."
Several partner communities also participated in the state government's 'One Citizen One Tree' campaign, which is on a mission to plant 1.5 million trees on the occasion. Around 500 plant saplings were planted as part of the campaign in Khluehumstem.
The NESFAS team in Garo Hills conducted a programme in Wakringtonggre, under Rongram Block (West Garo Hills) at the Wakringtonggre Government LP School as part of the campaign. Teachers, community members and the students, along with their parents, participated in the programme where they planted tree saplings at the school and church compound and areas in the locality. A cleaning drive was also held in the school premises.
Suben Ch. Marak, headman of Wakringtonggre, said, "I would like to thank the NESFAS team for organising this programme. Now that we have planted the trees, I promise to take care of the saplings which we have planted and we will try our level best to water it daily."
Phrang Roy, NESFAS chairman, said, "On this Environment Day, when several of our partners and communities in Meghalaya are taking part in the One Citizen One Tree Campaign, I am reminded of the Cree Indian Prophecy: 'Only after the last tree has been cut down, Only after the last River has been poisoned, Only after the last fish has been caught, Only then will you find that money cannot be eaten."
Comments
comments