Traveling across lush meadows through the pausing monsoon, the NESFAS team made its way to yet another training program. This workshop on "Food and Menu' was held at Mei Ram-ew Dhaba, Sohrarim, owned by Mr Hamlet Khongngain on 30th July for the staffs of the food joint.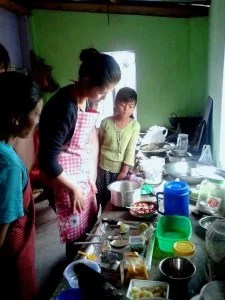 The training was just one of the initial stages of the series of interventions planned by NESFAS and the proprietor to convert the dhaba into a Mei Ram-ew Café. Mei Ram-ew Cafes are food joints that have been overhauled and brought to line with the NESFAS principles of 'Good, Clean and Fair'; good meaning tasty, clean meaning chemical free and fair meaning reasonable in pricing, both to the consumer as well as the producer. So far, two other Mei Ram-ew Cafes have been set in Meghalaya, one at Khweng and another at Mawshamok.
Participants at the workshop included the owner, Mr Hamlet, his wife and chef, Ms Sngewbhalang Wahlang and her assistant, Mr Pynphyrnai Diengdoh. The main focus of the session was 'food and menu' and aimed at developing food presentation skills, cleanliness and hygiene in the eating area and kitchen and sanitation.
It was only after the first assessment of the dhaba, which brought to the fore its urgent need for a menu that could cater to the requirements of tourists and local patrons alike, that the workshop was designed. The facilitators therefore stressed on the creation of a food menu, taking into consideration the customer's needs, which will be printed in both, English and the local language, Khasi. The dhaba was first visited by the NESFAS team on 13th of May to assess the state of the food joint. It was found that assistance was required in the areas of sanitation, presentation and display, recipe innovation and management.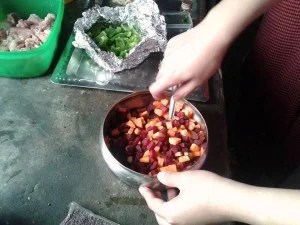 Another topic that was focused upon during the workshop was cooking itself. Basic culinary lessons were imparted during this first lesson. The first dish taught during this session was the carrot beetroot salad with mustard oil, lemon juice and mint leaf dressing, highlighting the facilitators' take on the importance of the incorporation of raw vegetables in a diet.
Considering presentation an important aspect of attracting a consumer, Ms Esther M Sawian, intern at NESFAS for Flavour Development and facilitator at the workshop explained that even a simple dish like fried capsicum with tomatoes and potatoes and potatoes can be made to look appealing. She said, "We should consider that food also appeals to us visually, prior to the feel of the taste buds. So the green colour of Capsicum should act in complementary contrast to the redness of the tomatoes and the yellow potatoes." Further stating on the visual aspect of food, she said, "It has to look good to be scrumptiously eaten."
Sohrarim lies on the way to Sohra (Cherrapunjee), with only 10 kilometres north of the sub divisional headquarter. The place is unmistakable from its green pastures, the prolonged wetness and the cool temperate breezes that roam the place the whole year round. As Esther has remarked, "It is so clean, the food, the environment, the kitchen… everything. It seems like this aspect of the dhaba doesn't need much upgrading."
Comments
comments