For centuries, traditional home gardens are an integral component of food production for rural families. Considered as the oldest form of agroecosytem, it has evolved from the ancient practices of hunters and gatherers over time. The important characteristics of home gardens are their proximity to the residence, close association with the family activities, wide biological diversity of plants and animal species and the use of simple low-cost inputs. Classified as mixed, kitchen, backyard, farmyard, compound or homestead gardens, the practice is widespread all over the world. The regional ecology of the location, the resources available, social and economic elements influence the composition of home gardens such that each is unique in structure and function. Several studies have documented the instrumental role that home gardens can contribute to household food and nutritional security, livelihood and ecological stability. The very persistence of home gardens in itself is a proof to their intrinsic social, economic and nutritional merits.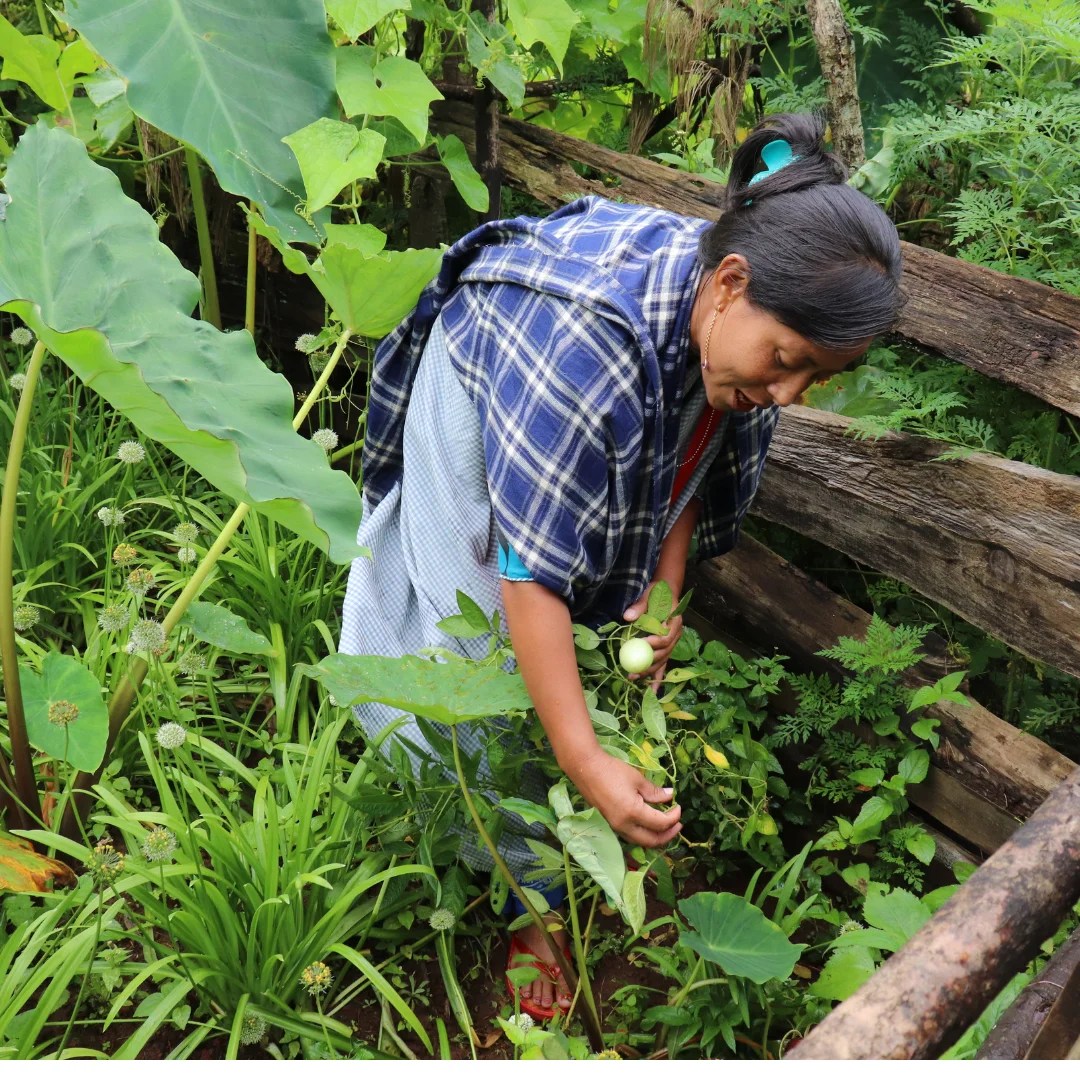 Recognising the multiple benefits, several governments, development organisations and United Nation agencies have included home garden projects as part of promoting nutrition and community development. An example of a successful home garden promotion is the case of Bangladesh that started a national garden programme in the 1990s to eliminate Vitamin-A deficiency in the country. In the 2019 Global Hunger Index, India was ranked 102 of the 117 countries with a GHI score of only 30.3 and tagged India as a country with a "serious" level of hunger. The country records a high rate of under-nutrition which continues to be a massive challenge. There is also a high rate of childhood under-nutrition in the state of Meghalaya with 31% underweight, 42% stunting and 17% wasting. There is a high prevalence of micronutrient deficiencies with anaemia recorded as 68% and Vitamin-A deficiency was 59% among children below the age of 5 and 83% and 48% respectively among women. Micronutient deficiencies will elevate vulnerability to other infectious diseases and lead to poor health and development particularly in children. 
To address the issue of malnutrition, various state governments and organisations have encouraged the establishment of nutrition gardens in the Angandwadi centres. In 2019, the government of India asked schools to set up nutrition gardens to reduce undernutrition and to promote experiential learning.  Scaling up the establishment of these home gardens across households can mitigate household food and nutrition insecurity. Home gardens have also been asserted for their economic benefits, contributing to income generation, improving livelihood and promoting entrepreneurship. The risk of food loss from foraging animals and transportation is reduced in home gardens when compared to that of field crops located often far from the residence thus reducing potential income loss. The earnings from the sale of surplus produce and the savings from the consumption of home-grown products contributes to more disposable income for the family to invest in other services and requirements. From the various participatory assessments done by the North East Slow Food and Agrobiodoversity Society (NESFAS) on the benefits of home gardens, it was found that a household can save an average of Rs. 73,000 per annum from self consumption of agrobiodiversity products that can come from home gardens. Additionally, earnings from the sale of agrobiodiversity products are about Rs. 20,000 per annum, substantiating the economic merit of home gardens.  
Home gardens have an important gender dimension as well. It is the women who are actively involved in home gardening and in some cases are the sole caretakers of these gardens. Their regular engagement in the preparation of land, selection and planting of seeds and planting materials, harvesting and marketing is a reflection of the proficiency related to plants and agronomic practices that women have developed. The adeptness of women in managing home gardens signifies their role as protector of the environment while the decisions they make has an important bearing on the nutritional outcome of the household. Women are, thus, instrumental in actualizing the benefits of home gardens for their families.    
Promotion of sustainable agriculture can also be achieved through home gardens. The mono-cropping of farmlands have led to drastic reduction of crop diversity, loss of biodiversity and increased crop losses from diseases and pests. Home gardens, on the other hand, utilise environmentally sound approaches of food production. The diverse composition of plant species that may include landraces, rare and threatened species as well as several animal species makes home gardens an ideal site for ex-situ conservation of biodiversity. The ecological services rendered by home gardens include nutrient recycling, reduction of soil erosion, enrichment of soil fertility and improved pollination amongst others. In short, home gardens can reduce the negative environmental impacts associated with mono-cropping.
Finally, the traditional home gardens maintained by communities across the state of Meghalaya are a valuable depository of indigenous knowledge. The home gardens practiced in the different communities express the wisdom of traditional culture and ecological knowledge that has evolved over the years of repeated trials, selections and propagation of the most adapted practice. Home gardens are places of innovation that can facilitate the preservation of indigenous knowledge, protection of indigenous crops and the transfer of knowledge and skills from one generation to another. Another dimension of home gardeners is the habitual exchange of seeds and planting materials that facilitate social integration between the communities thus strengthening community solidarity. 
The pandemic have contributed to people becoming more health conscious and the demand for high value food like fruits and vegetables is expected to increase. However, threat of disruption in the long food supply chain can affect the access to safe food and nutrition. To mitigate this disruption, FAO Director General Qu Dongyu in the meeting of the G20 countries has recommended countries to undertake measures that strengthen local production and shorten the supply chains. Adopting measures to aggregate smallholder farmers scattered across the region, scaling up home gardens and creating easy access to market to small-scale producers can be part of the solution to the problem. This can increase productivity and promote rural employment whilst building geographical proximity between producers and consumers. 
While home gardens can be used to achieve the target of dietary diversification, improved livelihood and change unsustainable pattern of production, there are several constraints faced in establishing and managing home gardens. Some of the constraints include the access to suitable and sufficient land, access to capital, lack of seeds, planting material and water, absence of advisory and extension services and the need for capacity building of garden owners towards health and wealth creation. A holistic approach which integrates home gardens into the existing social, political, economic and environmental condition of a location will ensure the productivity and the sustainability of the interventions. NESFAS is looking to support vulnerable households through assistance given to establish or support the existing home gardens of such groups. 
An important COVID-19 lesson that the pandemic has taught us is that food and health constitute the most important aspects of human existence. In addressing the issue of food security and nutritional diversity, multiple strategies of intervention that hinges on strengthening the local food system would be required. Home gardens can be a micro solution that families can use to recover a diversified diet and enhance food security and nutritional status of households. The underprivileged and the resource poor households can be supported to establish home garden that would enable them to diversify their diet. Home gardens can be especially important for female-headed families to improve the household nutrition, particularly child nutrition. Advocating building resilient household food production through home gardens by integrating traditional system with scientific knowledge can achieve higher productivity, economic viability and ecological sustainability.
About the writer : Gratia E. Dkhar is an Associate in NESFAS and can be reached at gratia.nesfas@gmail.com    
Note: This article has also been published in The Shillong Times 
Comments
comments