A few months ago, the world was hit by a global pandemic, taking everyone by storm and severely impacting various regions. Meghalaya has seen an ascent in COVID-19 positive cases, almost at a rapid pace in its the capital city of Shillong and the neighbouring areas. In this critical stage, public awareness of the virus and its route of transmission is a cornerstone in decreasing the further spread of this viral infection.
One of the milestones in preventing the spread of the virus among Meghalaya's local
Communities are by the State Institute of Rural Development (SIRD) which helped coordinate and fund awareness-training programs. These programs will further help local people in picking up prevention measures related to COVID-19 safety protocols in collaboration with NESFAS.
The training sessions aim to raise an understanding about the standard operating procedures (social distancing, avoiding crowded places and wearing masks), behavioural changes (handwashing, eating healthy food, and personal hygiene), risk factors and clinical management protocols.
"The training is a first, when it comes to in-depth training regarding COVID-19 and as a community we shall ensure that we religiously adhere to the safety protocols and safety measures," Kynshai Shadap, a participant from Madanritiang community, said.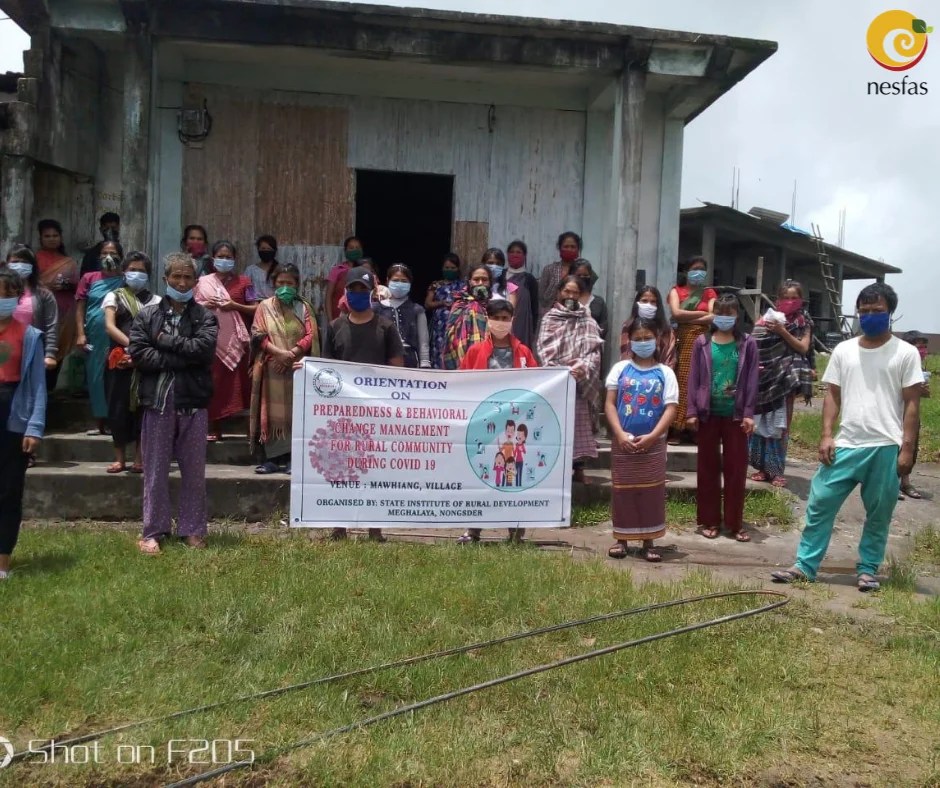 The collaboration has funded these training programmes in the form of food, 30 pieces of protective gear such as masks and sanitizers to all the communities, and a capital reserve of Rs 1,500 per community facilatator (CF) for their field use. Further facilitating and inspiring the community leaders and the participating communities to be responsible and have an optimistic attitude while battling the infections widespread in their regions.
Mawmihthied's community participant Shimti Merry Swer said, "The training has been really helpful to us and we have been equipped with adequate information on how do we become self-aware and take utmost care of ourselves."
Following these sessions, the community CFs are more confident in conducting training initiatives and ensuring the need for policies that emphasize raising people's collective awareness about the danger of COVID-19 infection. Recently the CFs of several Ri Bhoi communities, reached out to street vendors, taxi drivers and other local workers alike to raise awareness about the virus.
As for the participating communities, the community members were sharing their feedback that they are more enlightened about the Coronavirus. They even listed out the dos and don'ts in fighting the virus.
Since the virus will remain until a vaccine is found, every single person is taught the importance of safety, positive outlook, adaptation, and preparedness to fight the virus.
Comments
comments