Mei-Ramew Weaves
Silk, known as "The Queen of Textiles", has been providing livelihood opportunities for millions all over the world. The very nature of this industry, sericulture and silk, with its rural based on-farm and off-farm activities has brought to it recognition by planners and policy makers as among one of the most appropriate avenues for socio-economic development of a largely agrarian economy like India.
Noting its cultural significance, NESFAS sought to promote the practice in collaboration with weaving communities and Carol Cassidy, an experienced weaver and founder of Lao Textiles. Her work with indigenous communities all over the world in the area of revival and promotion of traditional weaving practices gave NESFAS the confidence to take the project up.
Meghalaya produces three out of the four varieties of silk available in the world. They are – Eri; locally known as Ryndia, Muga and Mulberry. The Eri worm is reared not merely for silk production but also for its food value. The cocoon of an Eri worm is more resilient than the other varieties.
The Ri–Bhoi District is one of the main regions of Meghalaya where Eri-culture and Handloom Weaving is still practiced. It has a long tradition and is part of the culture and heritage of the community. Eri-culture goes hand in hand with preserving the forest eco-system and encouraging the growing of plants that are used for dyeing the fabric and feeding the worms.
TRADITIONAL WEAVES AND EMBROIDERY OF MEGHALAYA
NESFAS works closely with the local artisans to promote this indigenous art. It aims to produce high-quality Eri products in collaboration with local weaving communities.
Eri silk weaving:
Eri silk weaving is a traditional art where the yarn is drawn out of the cocoon of the eri silkworm. Eri silk has a beautiful texture and flexibility; it remains cool in summer and warm in winter. For this art to continue, the preservation of the environment is essential as the yarn and dyes are sourced from silkworms and herbs in the local landscape.
Khneng embroidery:
The art of Khneng embroidery can be traced back to around 200 years ago. The embroidery is stitched on the Eri fabric (a silk locally known as jaiñryndia) to decorate the border of their traditional garments. Therefore, the genesis of the word 'Khneng' (a local Khasi word) basically means 'border'. The inspiration for the embroidery comes from a local insect in the surrounding called 'ktiar', which resembles a centipede. On a daily basis, the artisans work 6 to 7 hours on the Khneng embroidery.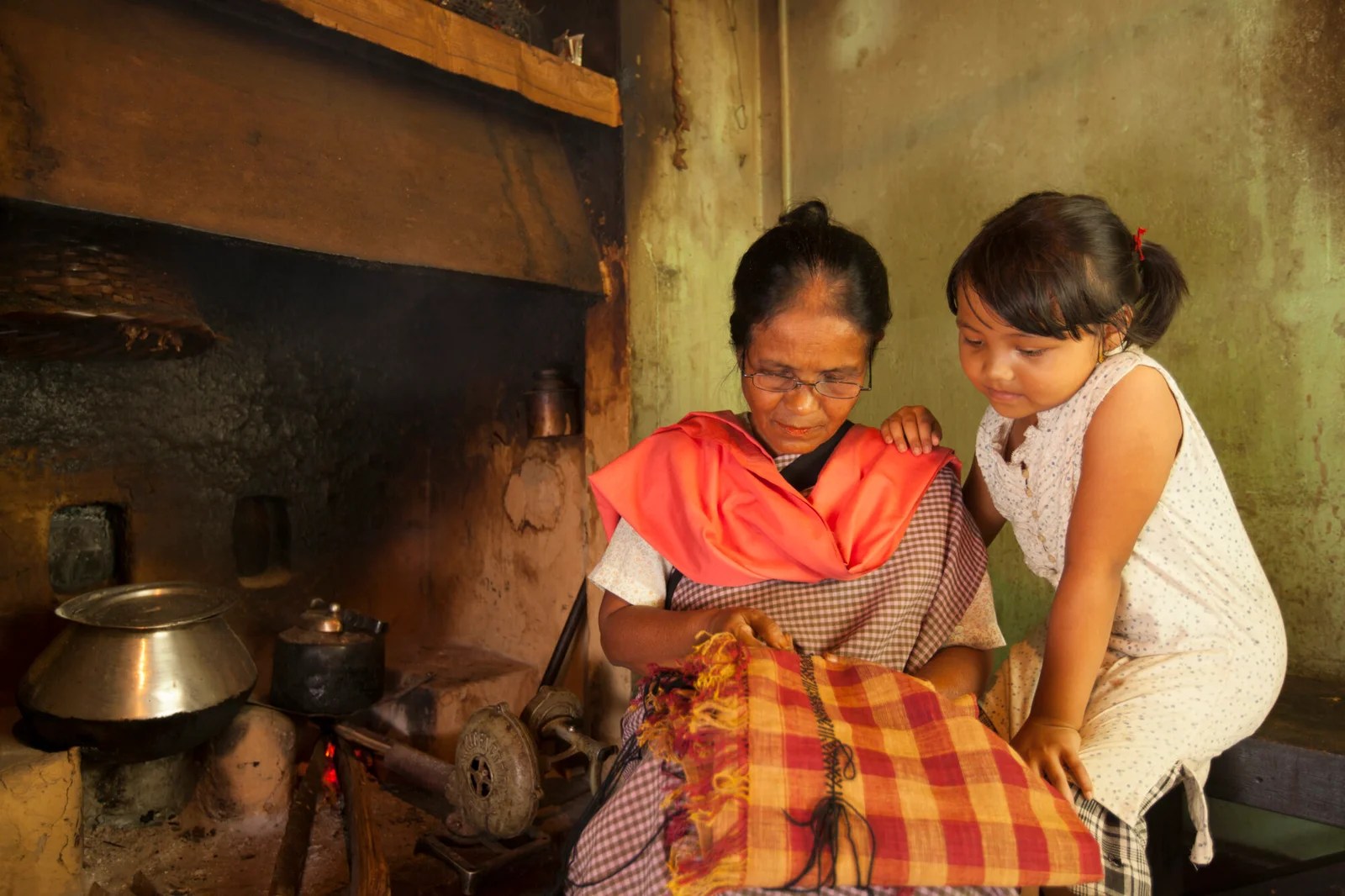 Natural dyes:
Dyes are extracted from roots, leaves, bark, flowers, and berries. These are crushed, pounded and boiled to extract the dye. The color is fixed with a natural mordant such as leaves. The concern is that some plants used for natural dyeing are becoming scarce. Preservation of these plants will secure a wide range of colors embedded in the culture of Meghalaya.