The Indigenous Food Fest was organized by the Social Service Centre, Shillong Archdiocese, on 15th June 2018 at Savio Hall, Laitumkhrah Shillong, and NESFAS was invited to mentor the centre as well as participate.  The festival mainly featured a Farmers' Market or "Ka iew jingbam tynrai" (In Khasi). This event is part of a Project entitled "Facilitating Agricultural Regeneration Measures (FARM)" to promote organic farming in nine villages under Mawkynrew and Mawryngkneng C&RD Blocks in the East Khasi Hills district. Smt. Ampareen Lyngdoh, Local MLA and Rev. Fr. John Madur, Vicar General of Shillong Archdiocese, graced the event as the Chief Guest and Guest of Honor respectively.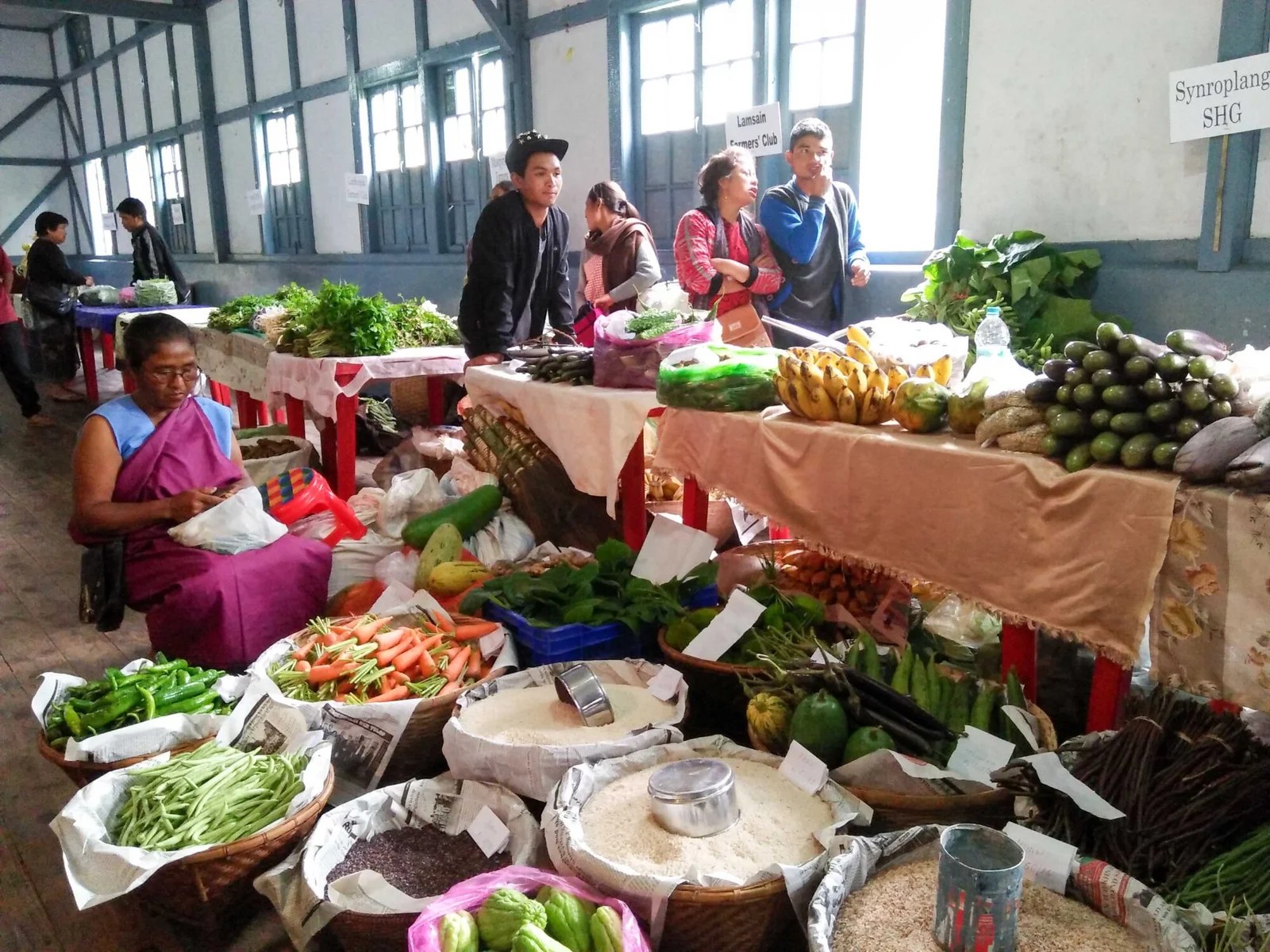 The aim of this programme was to promote local food products, with special focus on wild edibles and locally available nutritious foods. The festival saw participation of various farmers' clubs, youth and village organizations and Self Help Groups (SHGs).
There were altogether 13 stalls which mostly sold fruits and vegetables, and other food products, food stalls, and a handicraft stall. A NESFAS stall was also  set up at the event where millet flour and Mei-Ramew weaves ware sold. The SSC is also one of NESFAS' strong partner organizations and are actively involved in supporting to promote indigenous food systems.
"This initiative is a way to bring back traditional food. It is unfortunate that the food available in today's world is not completely clean and organic" shared Pius Ranee, Sr. Associate, NESFAS in his speech during the inaugural ceremony. With locally available nutritious food, especially the wild food plants that are abundantly found in the forest, we can reduce the problem of malnutrition. The concept of "Eat Your Rainbow" or integration of healthy eating with colorful and nutritious foods reminds people that a variety of fruits and vegetables in a diet provides essential minerals and vitamins required, which is critical for growing children. Pius also highlighted that yellow or orange colored foods like pumpkin are rich in Vitamin A.
In today's day and age, farming is often considered a drudgery. But we also forget that our farmers play a crucial role in the society. It is important that consumers understand this and provide their local farmers with fair pay and respect. As Pius Ranee rightly expressed
"Farmers should be proud of their work because Mother Earth looks upon them with a smile"
Smt. Ampareen Lyngdoh, Local MLA shared, "I can see that a lot of young people now understand the value of traditional farming" and this was also visible in the event with a great number of youth participation.
As NESFAS is currently involved in the REC-funded project "No One Shall Be Left Behind Initiative" with SSC being one of the core partner organizations, there are going to be more events of this kind in the coming months so that "Food shall always be seen as a Celebration".
Comments
comments