The 6th class started with a brief introduction to the dishes the boys were going to be cooking that day – Ja-ut (a local herb with a distinctly fresh aroma) mashed potatoes, potato chops, smoked pork veggie stew and flavoured dry fried beans.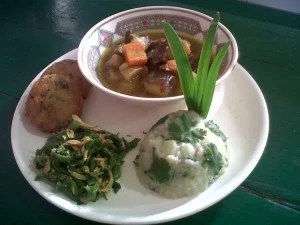 The boys were assigned to different chores for class work including boiling potatoes, prep work, chopping vegetables and ensuring correct measurements of salt and seasoning.
Assessing the boys' performance in this latest class, Esther M Sawian, Dept. of Flavour Development, said, "It was a good effort on their part, although they tend to miss out some of the minute details while cooking. But then they are just kids. They will take their time to learn about things like jotting down notes. Apart from that, the boys were very attentive to other general instructions", she said.
Mr. Roderick Nongrum, a recent addition to the NESFAS in the Flavour Development Dept. who displays a deep passion for cooking and culinary arts, joined Esther in this session. For a first timer he was evidently excited. After all, who doesn't like to share one's kitchen 'lab' try-outs?
"It is great to be a part of something that allows the sharing of culinary knowledge and skills…" he said. In the class, Roderick demonstrated the cooking of flavoured dry fry beans "Today I di