The William Lewis Boys Home Orphanage in Mawphlang, Meghalaya received global attention at Rome, Italy. Over the last couple of years through NESFAS, the Indigenous Partnership for Agrobiodiversity and Food Sovereignty (TIP) has been extending their work in the villages to the well-being of the children in the Boys Home. With a special interest from Mrs Anita Roy and, Mr Phrang Roy who is the Chairman of NESFAS and also the coordinator for TIP. There has been a constant interest in the upkeep of the building and have worked with the caretakers of the children to work on programs of nutrition and vocational training for the senior boys.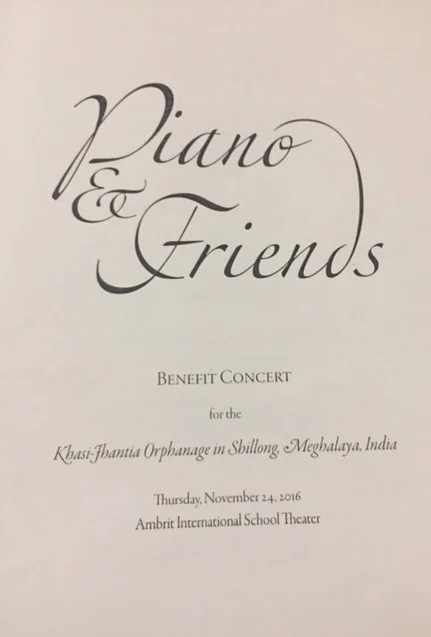 The Ambrit International School in collaboration with TIP organised a benefit concert titled "Piano with Friends". In which a successful fundraiser was held at the Ambrit International School Theatre on November 24th.
Mrs Roy had been influential in driving The Kids Kitchen Initiative (KKI) program with NESFAS since 2014 with the aim to teach children how to cook based on the concept of Good, Clean and Fair. As a teacher at the Ambrit International School in Rome, Italy Mrs Roy has been instrumental in mobilising the Ambrit International School to support the William Lewis Boys Home and the girl's Home at Jaiaw since 1999.
The teachers and school children at Ambrit International School have been closely attached to the two orphanages. The school children through their youthful and creative ways raised funds for the Boys home and the new building in Mawphlang was funded by donations raised by the school children. Over a period of time, they had raised Rs. 50 lakhs with which they used for the building and furnishing of the home. Teachers such as Ms Paige Short Thompson has conducted a singing workshop for the children at the boys home in Mawphlang. She has also regularly been having small benefit concerts to raise funds for the orphanages in Meghalaya and in Haiti. The Pastor of the Rome Presbyterian Church also came to inaugurate the Boys Home in Mawphlang when they shifted from Jaiaw, Shillong.
Last month Mr.& Mrs Roy had visited the Boys Home with the NESFAS team; included were architects and an engineer. They identified areas of concerns for the comfort of the children. They wanted to merge the idea of the school garden of NESFAS with conserving the home warm in winter by protecting the vegetable garden around the building and trapping the heat that the earth generates with a protective layer to keep the building warm. It will connect the children to the landscape and the building they live in.
Comments
comments