Mawhiang, EKH, together with NESFAS, joined the annul global World Earth Day Celebration this 22nd of April. The community came forward to actively participate and take a lead in expressing their interest in the plantation of trees to mark the occasion.
Despite the heavy downpour, the people of Mawhiang gathered to take part in the Workshop cum Training organised for them. The gathering was addressed by Dr. Carl O, Rangad, Rtd. Director of Horticulture and current Vice Chairman of NESFAS, and Dr. A. K. Nongkyrih, Professor of Sociology,  NEHU.
Expounding on how trees are important to the earth, Dr. Rangad reminded the community of how their ancestors had known this and that the village had been biodiverse and rich. The community acknowledged that with the shrinkage of forest cover their village has become much drier and colder than usual, and lamented the fact that it is now much tougher to cultivate the land. Stressing on the need to look ahead, Dr. Rangad urged the community to look beyond temporary solutions. Giving the example of when pine was introduced to Meghalaya, a plant which dominates most of the landscape now and isn't necessarily the best way to create forest cover as it limits growth of other plants and does not retain ground water, he urged the community to be wise about how they managed their natural resources like forests.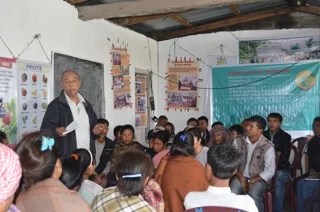 Though the group gathered to talk about planting trees, NESFAS would, however, not be encouraging planting trees this time. Dr. Rangad, explained why this World Earth Day, NESFAS came forward with such a strange approach. He shared with the gathering that according to Indigenous Traditional Knowledge of Meghalaya  trees should not be planted during the month of April because they will not survive. He supported the statement through the field of Biodynamic Agriculture; which is recognised by many scientist, which says that, seeds must not be planted under the full moon in this hemisphere and region as their growth will be hampered. Such knowledge, he pointed out, has always been present with the people of Meghalaya.
Dr. Nongkynrih spoke to the gathering about how the community should not just look at planting trees but also think about how they can maintain other resources of their forests in the next ten years so they are available to them and can support them. He also highlighted the need for the community to participate collectively as they have today in protecting their biodiversity for future generations. Through their lessons in collective belief, he told them, that their future generations of leaders will emerge. "It is easy to plant a tree but it is harder to built a forest of thought," he said.

Quoting an age old Native American saying – "We have not inherited this earth from our parents to do with it what we will. We have borrowed it from our children ," Mr. Phrang Roy, Chairman NESFAS,  who was also preset at the event along with Anita Roy, Board Member, NESFAS, explained how it is our duty to shape the future we want for our children. He hopes that this initiative will be the beginning of a movement that will touch other communities not just in Meghalaya but also the entire North Easter region of India.
Following the sessions, the community members took a collective resolution that in the next two weeks they will retrace their steps within their biodiversity and try to find trees that they had been growing for generations but have now become neglected. They also resolved to work hand in hand with NESFAS to rebuild the biodiversity of their land. It was decided that the samplings of plants found in the next two weeks will be collected and planted in June when the time is right and be protected as a community forest.
Through today' decision, the community of Mawhiang feel that they have a big leap forward in realising their inherent connection to mother earth, that reflects the understanding between a mother and child, and their ability to look ahead and decide as a community.
Mawhiang was one of the 9 villages visited by the international delegates of Indigenous Terra Madre 2015, that brought under one roof indigenous communities from all over the world to discuss the 'The Future We Want', last November.
As a side event, the children of the Mawhiang Domsohjhur Upper Primary School, Mawhiang, were also engaged in celebrating earth day  in their on way. A drawing competition with the theme "Trees for the Earth".
The children also put up a play showcasing the importance of trees.
Their fun evening with NESFAS concluded with a biodiversity display where the children showcasing local trees that they learned about from their teachers.
Reported by Peter Wallang & Damanki War
Comments
comments